Thanks to a Canadian cold front, we have been enjoying some incredible weather!  It was 75 degrees today and beautiful.  We were eating supper outside tonight and it felt like spring or late September!  It was wonderful. 
In the garden in July:  My squash, zucchini and now cantaloupe are being overtaken with the squash vine borer pest.  It's really devastating.  I'll have to post some pictures–the good, the bad and the very ugly pest ridden plant.
But the good news is that my tomato plants are growing like jack and the bean stalk.  Tomatoes are overtaking us and I don't even know how to can them yet.  I'm in love with the beautiful diversity and color of old fashion tomatoes!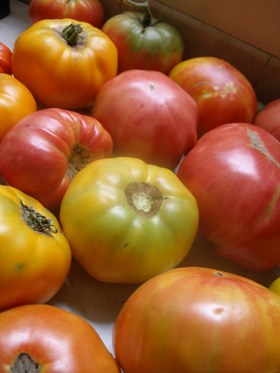 My jalapeno pepper plants are very prolific and the green beans are coming in by the grocery sack full.  Have I mentioned how much I like gardening!  I love it….especially on 75 degree days. 
I'll try to remember days like this next month if August hits with its full summer force.