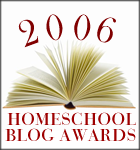 I am a little late on the latest news in the homeschool blogsphere.  However, the 2006 Homeschool Blog Awards are here…
Nominations will be accepted from March 26th- April 6th.
Voting for these nominations will begin on Friday April 9th. 
They have added a bunch of new categories this year.  Be sure to read the rules first.